Album Review: The Shondes, "The Red Sea"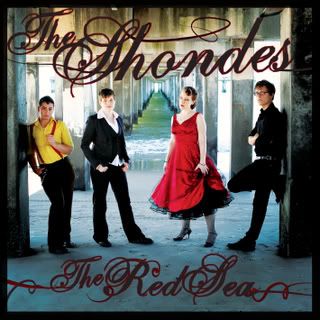 The Shondes' debut album, "The Red Sea" was intriguing at first glance and I can definitely say as I listened to the entire album, it completely held my interest. The sound is extremely powerful, thanks to the help of producer Tony Maimone, of They Might Be Giants.
The word "shonde" in Yiddish translates to "shame" or "disgrace". The album carries a lot of weight with these words. The band organizes events with activist organizations and three of the band's members work for Jews Against the Occupation. Their music, also categorized as "queercore", "punk", and "girl rock", its no wonder they named their band after such strong themes, enlisting it as their band name as a genius way to form a pre-emptive strike their critics. Being a band that tackles gender and sexuality its even more appropriate since it follows in the foot steps of the 'minority' which claim their critics names as their own.
Politically, I couldn't agree less with The Shondes lack of support for Israel message. Although, at least their lyrics are not straight out against Israel, but more representative of a hopelessness that comes from war. In the song "I Watched the Temple Fall," they express their feelings quite eloquently. "I know this is a time thick with dying/Remembering temples falling/I watched the wall ascending/I watched cities consume cities/The names and places are erased replaced killing history/With each village they're replacing it/With new walls in new tongues/ And yet today my people are mourning/An endless timeless span of tragedy…"
However, there is something absolutely creative and intriguing about the music. Their use of Klezmer violin, strong lyrics, and well produced punk sounds definitely show me why they have such a following. I cannot say I particularly loved the album, but I am a sucker for Klezmer music fusion and anything with violins. Also, it is not hard to appreciate the obvious unique fusion that puts the spotlight on this new musical group.
The one weak point I find on this album is the lead singer. Her voice, although powerful, just is not as polished as what I would like to expect out of an album with such instrumental potential. Having Tony Maimone as a producer was a great contribution to their sound. While the music is not really my style, I can appreciate the strengths in creativity and talent.
Check out their single, "Will You Still Love me Tomorrow" HERE
Click HERE to stream the album online
– Andrea Rosen