Get in the Game Vote J-ru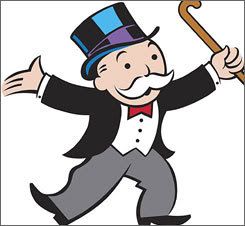 The Israeli Consulate in New York is on another mission for good Israel PR. The toy company Hasbro is in development to create a "World Monopoly." There is a website for the public to vote on the cities that will make it into the final game. Out of a list of 68 cities listed on the website to be voted on, only 20 of them will actually appear in the game. The final cities will be chosen end of February. Jerusalem is in seventh place. The Israeli Consulate in New York and the Foreign Ministry are on their PR game to promote the Hasbro voting website and are reaching out to gain support to vote the city of Jerusalem to the top so that it is included in the game's final list. To vote, click here.
The Consulate is not just settling on Jerusalem. They are hoping to campaign for Tel Aviv in hopes that it will be selected for Hasbro's second contest for two "Wild Cards" to start on March 1. Literally, they want to put Israel on the map. Its almost as if voting to put these cities in the game will help the rest of the world recognize that Israel does exist.
Isrealli.org, the blog of the Israeli Consulate General of New York, reports:
"Consul for Media and Public Affairs David Saranga, who initiated the campaign, explained, "The first stage is aimed at improving public relations. Millions of people around the world will make the connection between Jerusalem and Israel and realize that Jerusalem is Israel's capital. We hope that in the second stage we will also put Tel Aviv—a vibrant, cosmopolitan center of tourism and culture—on the World Monopoly board." (Israelli.org, 2008)
– Andrea Rosen