Erez Safar - Founder and CEO
Erez Safar a.k.a. Diwon is the founder and director of Shemspeed, Modular Mood Records (an independent record label), Hip Hop Sulha, and The Sephardic Music Festival. As a multicultural maestro, he produces a mix of Yemenite and Sephardic music blended with electro hip hop beats. Influenced heavily by his family that migrated from Yemen to Ethiopia and finally settled in Israel, his music reflects the multicultural tapestry that is Israel. London Radio's 104.4 FM called him, "One of New York's hottest Jewish musicians;" The Village Voice stated that his work "as producer and DJ is among the most adventurous and banging on the new Jewish music scene;" the Jerusalem Post dubbed him, "Jewish music's multimedia mogul;" Forward listed him as one of the Top 50 "most influential Jews of 2007;", The Jewish Week listed him amongst their "36 under 36", and Heeb Magazine listed him in their "Heeb Hundred." Erez resides and maintains his many companies, within the auditory heart of Brooklyn.
Nina Safar - Director of Programming and Marketing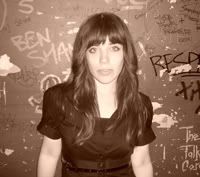 Working in both the AM and PM, Nina Safar takes seeds and busts out trees, arranging programming and events for the artists listed on the site with organizations and clubs worldwide. To check out some of the insanely entertaining and wild parties and shows that Nina Safar and the Shemspeed crew throw, click here! When not crazed with the clubs, Nina devotes her time to Shemspeed Tikkun by running "Project one C" which produces inter-faith, inter-generational, and inter-racial events and concerts to bring together communities by promoting dialogue and co-existence through the arts. Nina also runs the Shemspeed Open Mic night and is wearing a Shemspeed T shirt right now.




Yishai Mizrahi - Associate Marketing Director
The newest member of the Shemspeed marketing team is our hard-working intern Yishai Mizrahi. With a major in Marketing Management from Baruch College, Yishai has a solid background in publicity and promotions. Born in Jerusalem and raised in Seattle, he brings to the label a definitive point of view, a strong editorial eye, as well as an ear for that west-coast sound. When he's not serving as Shemspeed's #1 go-to guy, Yishai enjoys listening to early-mid '90s classic hip-hop such as A Tribe Called Quest and The Roots.