It's Here!
Shemspeed peeps!
We wanted to let you know that the C-Rayz Walz/Kosha Dillz record hits stores next Tuesday (Oct 14th). This is one of the most amazing, and probably only, hip hop records ever made by a Jewish and Black MC duo. Grab copies of the album from the Modular Moods store ! They ship early and come with a free CD…or you the record could be purchased directly from iTunes. If you need a press copy, let me know. ALSO download the "Evolution" remix for Free. We promise it is the best song you will hear this year!


Click Here to download it for FREE!.
Otherwise, please spread the word and support this revolutionary rap record.
thanks,Team Shemspeed

Post & Pass around the music video for "Sof" – here
BUY STORE COPY DIRECT (click here) | BUY ON ITUNES (click here)
(note: direct store copy purchases come with a Free Modular Mixtape CD mixed by Elsewhere of Sound Advice)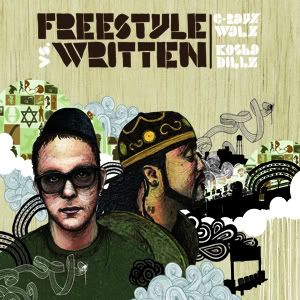 **FREESTYLE LEGEND C-RAYZ WALZ TEAMS UP WITH FRESH FACED KOSHA DILLZ TO RELEASE THE FIRST JEWISH?AFRICAN AMERICAN COLLABORATION RECORD OF ITS KIND:**
Indie hip-hop icon C-Rayz Walz teams up with fresh-faced, yeshiva-trained wordsmith Kosha Dillz for twelve tracks that mix freestyle and written rhymes, classic and new-school beats, and the frantic, fast-paced energy of a three, manic 24-hour recording session to produce, yes, "Freestyle Vs. Written," the first collaboration of its type. CMJ writes, ".. it's both a statement of cultural solidarity and creative open-mindedness."
To Find Out & Hear more, go to
www.freestylevswritten.com | www.myspace.com/freestylevswritten
The Sway Machinery is an all-star collective of innovative visionaries lead by guitarist Jeremiah Lockwood of Balkan Beat Box. The Sway machinery also includes Brian Chase of the Yeah Yeah Yeah's on drums, Stuart Bogie and Jordan McLean of the Antibalas horn section on tenor saxophone and trumpet respectively, and touring member of the Arcade Fire Colin Stetson on bass saxophone.
Lockwood layers the haunting notes of his Cantorial-influenced vocals over the energetic, celebratory rhythms of afro-pop, hard-hitting drums and the blues. The EP showcases pieces based on mystical texts taken directly from the Jewish High Holiday prayers and reconfigures them in a startlingly new musical landscape.
The Sway Machinery EP ois available NOW on iTunes, Amazon, and emusic. Be on the lookout for a short run of physical cds available at the JDub Webstore in a few weeks.
The release will coincide with Hidden Melodies Revealed*, two multi-media performances taking place at Le Poisson Rouge in Manhattan on Rosh Hashanah, September 29th and 30th. This year Hidden Melodies Revealed will feature a powerful set by the Sway Machinery and the premiere of a new animated masterpiece by renowned artist and New York Times illustrator Andrea Dezsö.
Hidden Melodies Revealed 2008:
Mon. Sept 29th @ Le Possion Rouge 10 PM / $10 / Tickets
Tues. Sept. 30th @ Le Poisson Rouge 10 PM / $10 / Tickets
The Sway Machinery on Myspace // The Sway Machinery on iLike // The Sway Machinery on youtube
*The Hidden Melodies Revealed project is supported by The Six Points Fellowship for Emerging Jewish Artists, a partnership of Avoda Arts, JDub Records, and the Foundation for Jewish Culture, and is made possible with major funding from UJA-Federation of New York.