Refugee Seder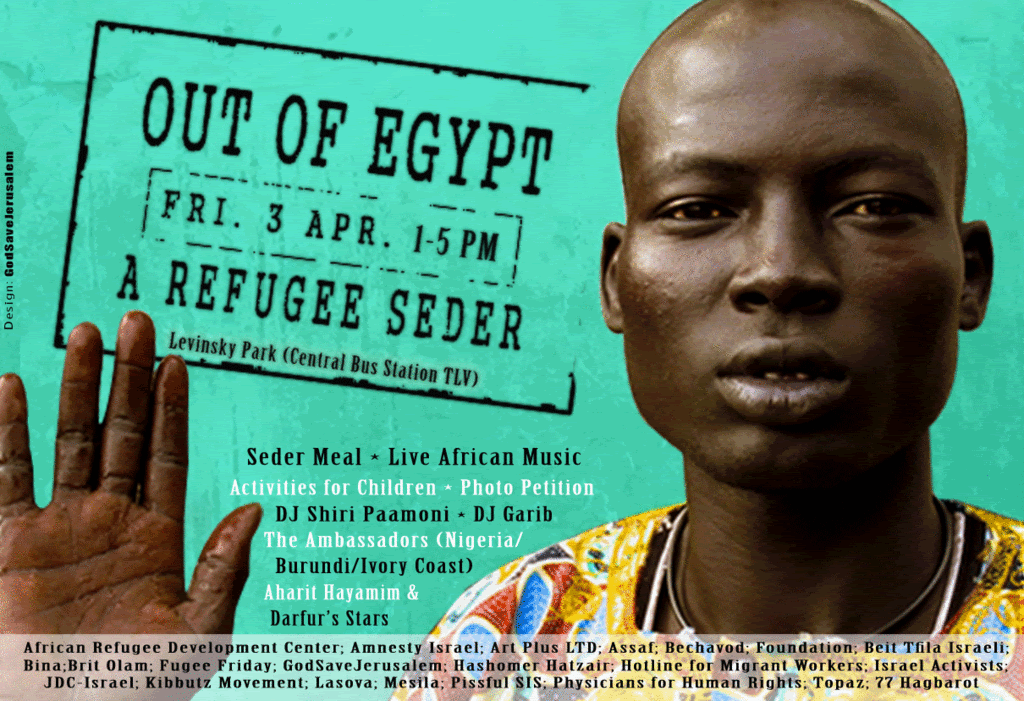 If you are in the Holy Land, do not miss Aharit Hayamim's huge follow up to the Shemspeed Massive in NYC. Aharit Team up with the Darfur Stars
'Out of Egypt'
A Refugee Seder
Friday, April 3rd, 1pm-6pm, Levinsky Park (next to the Tel Aviv bus station)
On 3rd April afternoon in Lewinsky Park Tel Aviv (opposite the central bus station) a special Seder event will be held to bring together Israeli's, refugees and internationals to meet, eat, learn and act together. We aim to draw parallels between our experiences and bring our communities closer together.
We will have an open air Seder meal, live music by Israeli and African musicians, participation in the largest photographic petition ever in Israel, a children's area, and an opportunity to study together about the universal message of this festival. Come make new friends.
For more info: refugeeaction@amnesty.org.il / israelactivists@gmail.com
English & Arabic Follow

'יציאת מצרים'
סדר עם פליטים וישראלים
יום שישי, 3 באפריל, 13:00-18:00, בגן לוינסקי (בצמוד לתחנה המרכזית בת"א)
אנחנו שמחים להזמין אותך לחגיגת אביב של חופש עם 'יציאת מצרים' – סדר הפליטים אשר יחבר בין ישראלים, פליטים ויהודים מהתפוצות.
זוהי הזדמנות יוצאת דופן ליצור חיבור בין תרבויות ומסורות שונות, תוך מפגש עם אנשים חדשים, אוכל, לימוד ופעולה משותפת למען עתיד צודק יותר, ע"י קירוב הקהילות אחת לשנייה.
בואו ליהנות מארוחת סדר באוויר הפתוח, ממוזיקה חיה על ידי אמנים ישראלים ואפריקאים, השתתפות בעצומה מצולמת ענקית למען מימוש זכויותיהם של מבקשי המקלט בישראל, מתחם פעילויות לילדים, ולימוד משותף על המסר האוניברסאלי של חופש מחג זה.
למידע נוסף: refugeeaction@amnesty.org.il israelactivists@gmail.com;