Shemspeed at SXSW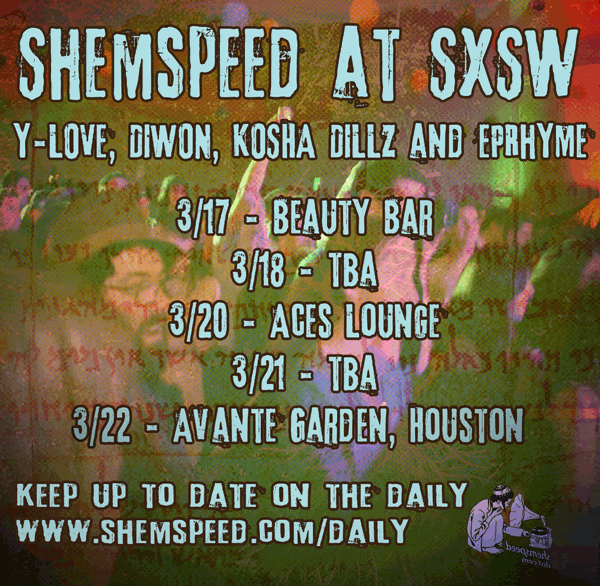 Shemspeed will once again be present and accounted for at this years SXSW
If you are going to be out there, here is the info on where to catch them. Updated info on all night will be posted the week of.
March 17th
City On Fire, Beauty Bar, Fanatic Promotion, and Toyota Matrix present:
ART DISASTER no.8
6pm-2am
@ Beauty Bar
617 East 7th Street, Austin
Y-Love, Eprhyme and Diwon hit at 1am on the outside stage!
www.artdisaster.com for RSVP and info
Free with RSVP
March 20th
SXSW Musicheals International Hip-Hop Charity Party
Noon to 5:30 pm
@ Aces Lounge
222 E. 6th St Austin TX 78701
Musicheals is opening a community hospital built by music and art! Join the cause while enjoying the many voices of hip-hop at our "International House of Hip-Hop" featuring Paul Wall, members of Swishahouse Records, Tha Transmissions feat Cornbreadd from MTV's "Money & Tha Power", Y-Love, Eprhyme, Diwon of Shemspeed / Modular Moods, and Dubtex. Show your SXSW badge for entry or RSVP to sxsw@musicheals.org Donate to the cause at http://sxsw.musicheals.org.
March 20th
Hip Hop Howl: Live Mixtape Showcase
w/ Kosha Dillz, Proton, Friction
@ Lucky Lounge
209 A West 5th St.
4:30pm
March 21st
SXSW House Party
with DJ Orion, Josh Bloom, and special guests, Y-Love, Eprhyme, Diwon
March 22nd – Houston
8 – Midnight
Shemspeed Houston Showcase
@ Avante Garden
411 Westheimer St Houston TX 77006
Performances by: Y-Love, Eprhyme, Diwon, & Dubtex (Live hip-hop band with a Ethopian & Reggae influence)
$10 before 10pm, $12 after
RSVP houston@musicheals.org
PHOTOS @ http://tinyurl.com/photossxsw
VIDEOS @ http://youtube.com/shemspeed