Brody Free Downloads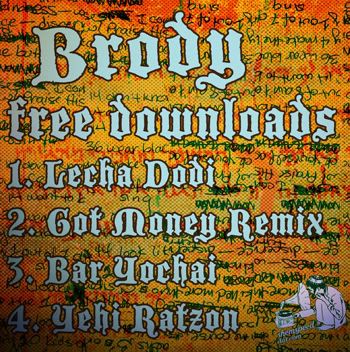 In preparation for Brody's upcoming EP which will be released on Modular Moods/Shemspeed worldwide in the fall, we have decided to put together a bunch of his free singles and downloads for you all to throw on your ipod. The collection includes his famous Lecha Dodi Vs. Akon track as remixed by Diwon, as well as "Bar Yochai", his Lil Wayne, "Got Money" Remix with DeScribe, and of course the supernatural Shir HaShirim single, "Yehi Ratzon". Download them and pass em around and get ready for his major EP debut in the fall!
DOWNLOAD NOW FREE!
some background on Benyamin Brody for those who don't know yet 😉

Benyamin Brody is a Moroccan singer/rapper that grew up in NY listening to American hip hop and rock and roll. As a kid he was a singer in the famous ultra-orthodox Miami Boys Choir which showcases the best voices in the young Jewish world. At 16, Brody moved to Israel started writing music, teaching himself bass, guitar, piano, and drums. Brody started to write hip hop, trance, rock and soul music. At 21 he moved back to NY and heard "Right Now" by Akon on the radio and having lived by the Hassidic concept of taking the mundane and everyday elements and raising them up to G-d, he sang "Lecha Dodi" to the instrumental track fitting in a perfect pop way much like a DJ blend on a mixtape. "Lecha Dodi" is a song recited Friday night welcoming the Sabbath queen and was written by the 16th century by Rabbi Shlomo Halevi Alkabetz, a Kabbalist from Tzfat, Israel. This mix of radio and scripture caught the attention of music impresario, Diwon, who immediately brought Brody into the studio. Upon hearing one of Diwon's hypnotic beats, Benyamin jumped up with an idea, "I could sing Shir Ha Shirim to this". Along with Dugans, the two recoded all 8 chapters of the poem in one take. The outcome is the "Shir HaShirim" album which is Benyamin's debut recording.