Kosha, Matisyahu and The RZA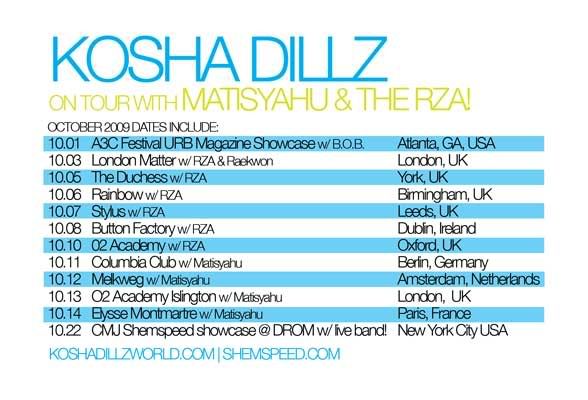 In case you can't read that (like us). Kosha dillz has made some noise landing a great promo deal with Duck Down Records after winning the hot 97 summer jam battle at Giants Stadium in NYC. Ever since that victory, he's been on a hot streak, rocking shows with everyone from B.O.B. in Czech Republic to Asher Roth, and he is scheduled for a back to back Euro tour with RZA and Matisyahu spanning through 5 countries. State side you can catch him rocking the URB Magazine showcase in Atlanta at the A3c October 1st and October 22nd at the Shemspeed CMJ showcase (info here).
Pretty exciting month if you ask me. His Freshman LP, "Beverly Dillz," comes out November 10th.
10.01.09 A3C Festival URB Magazine showcase w/ B.O.B. Atlanta, GA, USA
10.03.09 London Matter w/ Rza and Raekwon London UK
10.05.09 The Duchess w/ Rza York UK
10.06.09 Rainbow w/ RZA Birmingham UK
10.07.09 Stylus w/ Rza Leeds UK
10.08.09 Button Factory w/ Rza Dublin, Ireland
10.10.09 02 academy w/ Rza Oxford UK
10.11.09 Columbia Club w/ Matisyahu Berlin, GE
10.12.09 Melkweg w/ Matisyahu Amsterdam, NL
10.13.09 O2 Academy Islington w/ Matisyahu London, UK
10.14.09 Elysse Montmartre w/ Matisyahu Paris, FR
10.22.09 CMJ showcase @ DROM w/ live band! NYC
Keep updated on The Daily and koshadillzworld.com