The Israeli Breakdown # 2; Takhles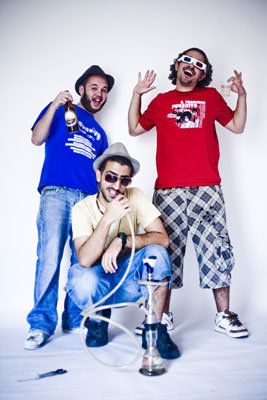 The Israeli Breakdown Presents; "Takhles"
As a hip hop listener in Israel your options, up until not too long ago, were pretty limited. These days we are seeing more sides of the Israeli hip hop scene coming to the front of the stage. One group that's taking over the radio waves lately is Takhles (Hebrew slang equivalent to "on the real"), which is an acronym for "Give Respect to The Homie". Takhles became very popular with the Israeli crowd due to their laid back, super cool, funky style. Combining smooth flow with funny punch lines has worked out very well for the group members, who have been performing all over the Holy Land.
Takhles consists of three members; Ilia Man, Nache, and Extra. These talented young artists have been writing lyrics since early 2000. They started as solo artists and came together in 2005 after extra's former group has fallen apart. Back in 2005, the group members have also joined the IDF for their mandatory military service. They used their off time to work on a mixtape, and after two years the hard work has paid off. "Takhles and The Homies are Proud to present: Yalla" was born. The mixtape featured some of the hottest up and coming artist such as Peled and Ortega (check our Breakdown # 1) , Lukach, Noa Faran, and Nechi nech. To celebrate the album release, a big party was held in Tel Aviv featuring many guest appearances. It turned into a big success.
Nowadays, after being released from the army, the group has decided to step up their game and get into the studio with the respected and valued producer Gad Baruch. After months of work, the album was done. They titled the album "Lo Nora", or in English, "Never Mind" .The first single "Lo Nora" was released and created a big buzz across the Hip hop community in Israel and made it to the radio. The second single "If I had a shekel" was released soon after and became an instant hit. A tour across Israel was soon to follow. The Album is expected to be released early 2010, and considering the fact that these guys are doing it all without a record label is very impressive. You can ask any hip hop listener in Israel about these dudes. They will all tell you the same thing; Takhles always provides fresh, fun, good vibe music. It seems like this is just the beginnings for Takhles, and if they keep going in this pace its only a question of time before we see them performing hits here in the US.
Check out Takhles for yourself and show them some support:
– Mor "Morpheum" Ben-Shimon, dJOoKRoO