Black Sea Hotel @ Israel Electric!
Word is that Black Sea Hotel will be joining Diwon on stage for a special performance at this years Israel Electric for Israel 60! Which goes down May 7th at Galapagos Art Space. Check out Black Sea Hotel's myspace here ALSO, JEWLICIOUS, NEW VOICES, AND PRESENTENSE have all jumped on board to make sure that it will be the most amazing Israel 60 party this side of India!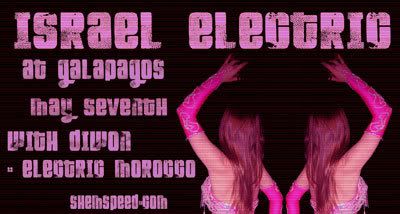 ALL INFO IS HERE
Here is a photo of our last party, don't be too late for this one:


has just announced her pans to throw a crazy live, electric, israeli, bellydancing, hip shakin, hands in the air and maybe on something else … party for Israel 60 at Galapagos May 7th. So, if you want to throw down for very little mulla, email rsvp@shemspeed.com and get in for 8bux!
It all goes down with Israel's own hottttt Electro Morocco!!!, special guests and, of course, Diwon on decks!
p.s. If you are Israeli-ish and would like to perform, hit us up!
p.p.p.p.s. Just added some new Israel 60 Remixes Its all free and its all here….
ADDRESS: 70 North 6th Street
between Kent and Wythe
Williamsburg, Brooklyn, NY 11211
718 782-5188