Bringin da honey Pt. 2
As you could see from my last post about Erykah Badu on Thursday, her then-upcoming performance in the homeland this Saturday was getting everyone hyped up from Israelis to the rest of us with Israeli pride all over the diaspora. Opening for Erykah Badu was extremely talented and very Badu-influenced, Karolina and the Funset. (Check her, if you don't know, now ya know…) I am always really excited to see talented Israeli artists getting their moment and exposing to the world all that is coming out of that small piece of land.
However, I was disturbed on Friday to read all the articles relating to the controversy surrounding her pre-concert press conference. From NPR to Allhiphop.com, news of Ms. Badu's "views" of the situation over in the Middle East has caused quite a stir.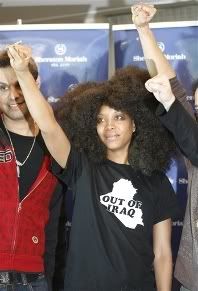 (NPR, Associated Press, 2008)
NPR reports, "The singer, who couldn't name any Israeli hip-hop artists, said she identified best with the Palestinians and their hip-hop scene, saying they are part of her 'tribe' of hip-hop. 'They use (hip-hop) as a form of liberation, as a form of pre-resistance, as a form of therapy,' she said. She defended Farrakhan, the leader of the Nation of Islam, whose statements have been labeled "bigoted and anti-Semitic" by the Anti-Defamation League." (NPR, Associated Press, 2008)
Can't name any Israeli hip hop artists? Are you serious? First and foremost, know your audience. You give a concert in Tel Aviv and come in not knowing any of their famous artists? A lot of very talented Israeli hip hop musicians have exploded on the scene as well as many brilliant Palestinian artists that she supports so much. Many Israeli hip hop artists have worked with talented American artists such as the collaboration of T.A.C.T and Wyclef and Joe Budden on their last album, Miri Ben-Ari, the hip hop violinist, and Soulico Crew who were hyped up by Diplo himself.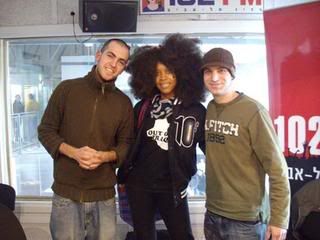 (Picture was taken from DJ Ori Shochat's myspace page…and she cannot name any Israeli hip hop musicians?)
The press conference definitely did not hinder her audience. Ynet gave nothing short of amazing reviews for Saturday's concert. Ynet reports, "Every note, every beat of the drums, every guitar riff and base rhythm generated by Badu, her band and her backup singers was precise, crisp and perfectly coordinated. This is exactly what R&B ought to sound like. This is what Badu's music is to perfection. In between songs, Badu told the audience that she had visited the city of Lod, and was replete with messages of peace, love, harmony and unity for the audience. 'Believe in it, and not only because I told you so', she told the crowd. Badu often came down to interact with the audience, latched on to them, allowed them to buoy her up and vice versa." (Ynet, 2008)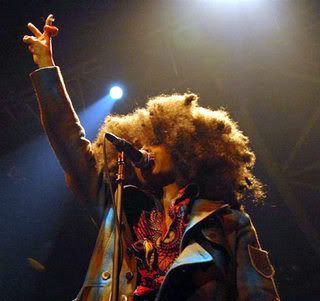 (Ynet, Photo credit: Or Alterman)
Wish I could have been there in Tel Aviv to see the amazing show and be there for that kind of energy because I am definitely a huge fan. But please, Ms. Badu, next time you come to our great homeland, think before you speak on such a controversial subject. We all want peace in the Middle East and if music can help the cause even just a little bit, especially music as beautiful and lyrical as dope hip hop, then we need to do all we can. And in Israel, we have a lot of that brilliance bursting out. So Erykah could not give you a shout out, but I will. This to all of you representing Israel. Peace.
– Andrea Rosen