A book so SWEET it has a soundtrack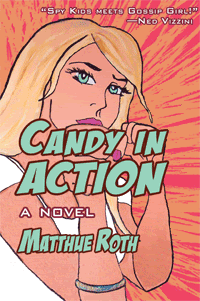 I was procrastinating from my work this afternoon by reading one of my favorite Philly blogs, when I came across news about one of Shemspeed's very own, Matthue Roth. As a proud Jew and Philadelphian, I love giving props to both.
Taken from Philebrity: "When no one was looking, two lesser-known Philly acts — homespun hip-hopper Postal and explosive funksters Prowler — contributed to the soundtrack for Matthue Roth's new book Candy In Action (c/o Soft Skull Press). Yes, a soundtrack for a book. Is that so crazy? Turns out it was mostly mixed in Philly too. Further proof that it's flat-out impossible to keep up with all the musical activity in this town these days. [Candy In Action]"
And so true it is. So much going on in my great city. I also live down the street from Diplo's studio. Just wanted to throw that in there…
Check out the full info on the soundtrack here.
– Andrea Rosen