Israel Electric May 7th
JEWLICIOUS, NEW VOICES, SHEMSPEED AND PRESENTENSE join Nina Safar in throwing what will be the most amazing Israel 60 party this side of India!
Now for all the info:
Nina Safar who is known to throw insane parties …just check this set (here)


has just announced her plans to throw a crazy live, electric, israeli, bellydancing, hip shakin, hands in the air and maybe on something else … party for Israel 60 at Galapagos May 7th.
So, if you want to throw down for very little mulla, email rsvp@shemspeed.com and get in for 8bux!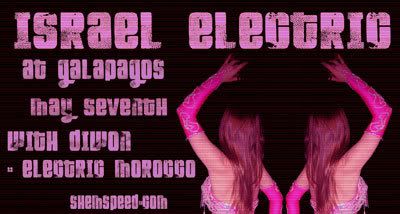 It all goes down with Israel's own hottttt Electro Morocco, of course, Diwon with very special guests Black Sea Hotel!
p.s. If you are Israeli-ish and would like to perform, hit us up!
p.p.p.p.s. Just added some new Israel 60 Remixes Its all free and its all here….
ADDRESS: 70 North 6th St. (between Kent and Wythe) Williamsburg, Brooklyn, NY 11211
ALL INFO HERE
(Israel Electric is also a celebration of PresenTense's Magazine Release Party, so graba copy and dance with Ariel and the crew!)