Jewish Rapper Eprhyme Is Ready For Prime Time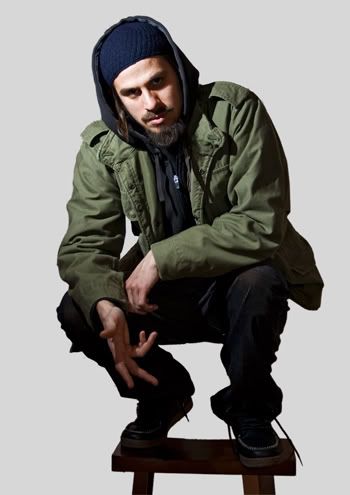 When you first encounter Eprhyme's solo debut album WAYWORDWONDERWILL, out this fall on Modular Moods/Shemspeed, you might mistake his shtick as that of another Matisyahu clone. Along with the famous Hasidic reggae sensation, he might also draw comparisons to other MC's with Jewish roots like Y-Love, Remedy (of Wu-Tang Clan fame) or even the Beastie Boys.
While there aren't an abundance of well-known American Jewish rappers, there are still too many for Eprhyme to use his ethnicity as an effective gimmick. But his down-to-earth political perspectives and equally compelling beats ensures that his music is more than just a cheap multicultural novelty.
YOU COULD PRE ORDER EPRHYME'S ALBUM ONLY FROM SHEMSPEED BY CLICKING HERE (you will recevie a signed copy of his album 2 months before it hits stores!!!!)

Before putting down roots in his current hometown Brooklyn, Eprhyme sharpened his musical skills in Olympia, WA, home to lefty institutions like Evergreen State University and its vibrant punk, grunge and riot grrrl scenes. Now Olympia can add a burgeoning hip-hop community to the list. The progressive politics of his former town seem to have incubated in part his sharp worldly perspectives.
Eprhyme's lyrics span religious imagery, fist-pumping demands for social justice and other personal perspectives. His rhetoric, which bounces between poetic praise to "G-d" and critiques of capitalist empires, serve as a ready reminder that the political right wing has no monopoly on faith. On "Punklezmerap" he raps, "I'm a consciousness catalyst sent, to abolish establishment."
On "Shomer Salaam" he turns his lyrical wit against militarism, exclaiming, "Not by might and not by our power but through spirit alone shall we become free." Clearly empathizing with both sides of the Israeli/Palestinian conflict, Eprhyme references common principles in Judaism and Islam to condemn the brutality of both "macho military occupation" and suicide bombers: "Violence is a sword with a blade for a handle, just like burning down your house just so you can light a candle,."
The spiritual language doesn't end there. Several of the tracks gain a mystical boost from the Hebrew and Arabic woven into them. On "It's All G-d" Eprhyme explores the tension between his genuine personal faith and the ways others have used religion for conquest.
His focus turns to domestic issues on "Beggin' For Change," which paints meticulous pictures of three different encounters with the homeless in a compact three-minute song. The production is smooth enough, but you'll have to play it repeatedly to catch the descriptive details about a shopping suburbanite's disdain, a fearful 15-year-old boy fleeing an abusive household and the thoughts of an Iraq war veteran plagued by post-traumatic stress disorder.
At times, Eprhyme seems to have so much to say he has trouble squeezing it into the relatively short tracks he has to work with. The album's big ideas feel cramped, despite the technical, tongue-twisting speed he can maintain.
Amid all the pain and confessionals a few numbers aim for a lighter mood. "My Mouth is a House of Prayer" feels more appropriate for a club than a synagogue. There's also "Heavy Shtetl," which boasts a fun Hava Nagila sample sure to make a few bar mitzvahs rock a little harder this year. But if you're looking for easy-go-lucky party music, this is not the album for you — Eprhyme doesn't leave a lot of room for levity.
The more serious-minded hip-hop fan will enjoy Eprhyme's witty wordplay and barrier-breaking idealism and the album boasts top-notch production by Smoke of Oldominion whose beats blend rubbery basslines with traditional Yiddish klezmer riffs and Middle Eastern chants.
Before immersing himself in hip-hop culture, Eprhyme was involved in his local skateboarding and punk rock scene. Though the punk influence isn't obvious in his tunes – listeners won't find too many electric guitar solos in the music – there is certainly an in-your-face energy similar to his early influences. Like a traditional punk rocker, Eprhyme's rhymes are constructed to inspire deep meditation on a wide array of issues while consumers listen casually. But the rhythms he drops in many of his tunes still hit hard enough for clubbers to dance to them.
His live performances also project an engaging, party-like energy. Eprhyme has performed all over the country at a wide range of venues including youth detention centers and synagogues as well as the more typical clubs and music festivals. This year, the Jewish rapper has brought his unique brand of hip-hop to performances all over the country, including HOT97's "Who's Next" live Showcase presented at S.O.B.'s in New York City. He collected even more fans at the South by Southwest 2009 festival in Austin, Texas. By the time WAYWORDWONDERWILL becomes available on iTunes and music retailers across the country in September – enterprising music lovers can track them down already – Ephryme will already have an ethnically diverse community of admirers.
WAYWORDWONDERWILL's succeeds by blending counter-intuitive ingredients without sounding contrived. The end result is a collection of surprisingly danceable anthems for open-minded religious progressives and hip-hop atheists alike.
.
Posted by Geoffrey Dobbins.
click to the original article at Wire Tap Mag, here.