Na Naach Trance Party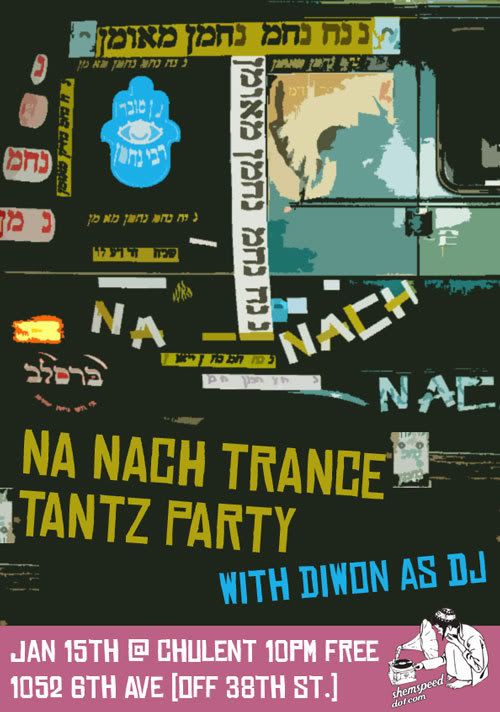 The following message is from Breeah Berezin-Bahr, the most Na Nach'ed out girl we know. "FEELING LIKE U REALLY WANT MASHIACH TO COME AND NOT EXACTLY SURE WHAT YOU CAN DO TO HELP?
COME BE B'SIMCHA AND DANCE LIKE CRAZY ALL FOR HASHEM YITBARACH
THIS IS ONE EVENT YOU WONT WANT TO MISS TRUST ME!
PLUS I'LL BE TURNING THE GEMATRIA OF YUD KEY VUV KEY AND CANT THINK OF A BETTER WAY TO CELEBRATE!
LICHAIM NA NACH NACHMA NACHMAN MEUMAN!!!"
Party Info:
Thursday, January 15, 2009
10:00pm on…
@ THE MULLINARY SHUL
1052 6TH AVENUE (OFF OF 38TH ST) NYC
* Wanna prepare yourself for the party?
Well, you will need two things:
One, the Tikkun Klali record, "This prayer is a kabbalistic tikkun, a powerful 'repairing' prayer, and comprises and introductory prayer, 10 specially selected psalms in a special order, and a concluding prayer.
– Click here to download it for free.
Two, the "Tikkun Klali # 10 (diwon dancedancetanz remix) – Diwon Vs. Erez Yechiel"
– Click here to download it for free.
for more info on this whole Breslov/Tikkun/Na Nach stuff, click to the last Shemspeed post on it here.