SHEMSPEED GOES TO SXSW!!!

SHEMSPEED IS HEADED DOWN TO SXSW (Austin, TX)
(Y-Love, Kosha Dillz, C Rayz Walz and dj handler)
* See below for schedule and email djhandler@shemspeed.com for any updates!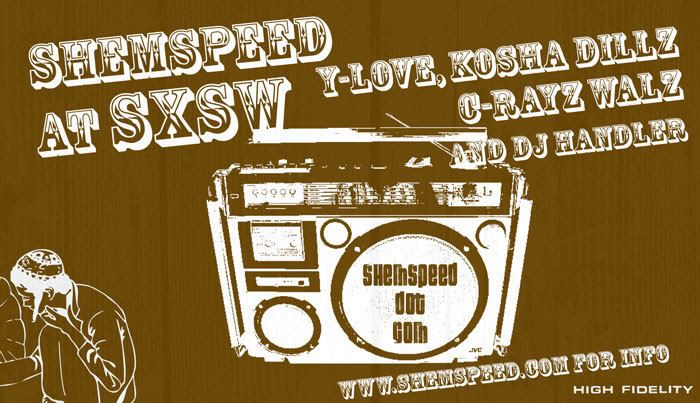 CALENDAR OF EVENTS
– Wednesday Night @ Creekside 3/12
10-11
Rosetta Stoned, Kosha Dillz, Shunda K
– Thursday Night @ Cock Pit 3/13
Rosetta Stoned; Y-Love, Kosha Dillz, dj handler & Shunda K
– Thursday:SXSW C RAYZ & KOSHA's FREESTYLE VS WRITTEN SHOWCASE
@ Volume (614 E 6th St)
showcase with living legends sleep lucky i am and zion I and special guest appearance by Y-Love
– Saturday BBQ in austin LOCATION TBA)
– Saturday: Saturday night treasure city 12th st
feat. Kosha Dillz , DJ Orion and tons of special guests, including Y-Love after Shabbos.
– Sunday-austin lake boat party with josh martinez, sleep 2mex, Kosha Dillz, Y-Love and more tba!!
p.s. Y-Love and Kosha Dillz will be making guest appearances at the FRANK 151 PARTIES ALONG WITH C RAYZ WALZ
AFTER SXSW the boys head to HOUSTON!
············
HOUSTON CD Release Show
Monday, March 17th
Location: Warehouse Live
813 St. Emanuel St.
Houston, TX 77003
www.warehouselive.com
* with Jake Break, and dj handler
special guests: Kosha Dillz and Diwon
all info at www.ylovemusic.com and www.shemspeed.com as well as of course www.modularmoods.com