Purim in Haiti: Party to Help a World Turned Upside Down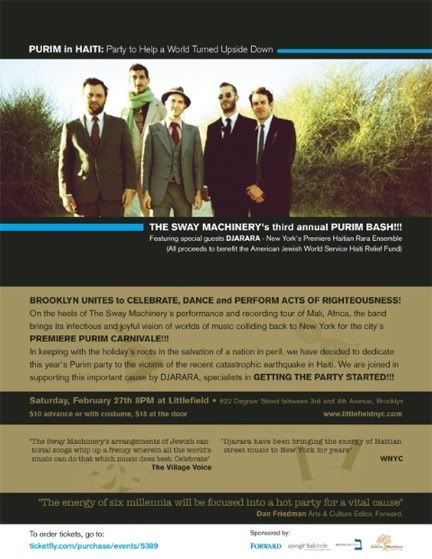 With all the Purim mishugas, it can be pretty difficult to find just the right party for Saturday night. So let me fill you in on an opportunity to celebrate with the best, dance your pants off to some music that will make your feet happy, and give tzedaka to a worthy cause.
Come on out to The Sway Machinery's Third Annual Purim Bash featuring special guests DJARARA — New York's Premiere Haitian Rara Ensemble at Littlefield in Brooklyn. All proceeds to benefit the American Jewish World Service Haiti Relief Fund.
Saturday, February 27th 8PM
Littlefield– 622 Degraw Street between 3rd and 4th Avenue in Gowanus, Brooklyn
http://www.littlefieldnyc.com
$10 advance or with costume, $15 at the door
To order tickets, go to: www.ticketfly.com/purchase/event/5389
Sponsored by: FORWARD, AJWS Global Circle, Brooklyn Jews, The Samuel Bronfman Foundation
On the heels of The Sway Machinery's performance and recording tour of Mali, Africa, the band brings its infectious and joyful vision of worlds of music colliding back to New York for the city's Premiere Purim Carnivale.
"The energy of six millennia will be focused into a hot party for a vital cause," says Dan Friedman, Arts & Culture Editor of the Forward.
And if you don't want to believe Dan, DOWNLOAD a FREE mp3 courtesy of The Sway Machinery and listen for yourself! Purim Sameach y'all!
— Farrah Fidler