The 4th Annual Sephardic Music Fest!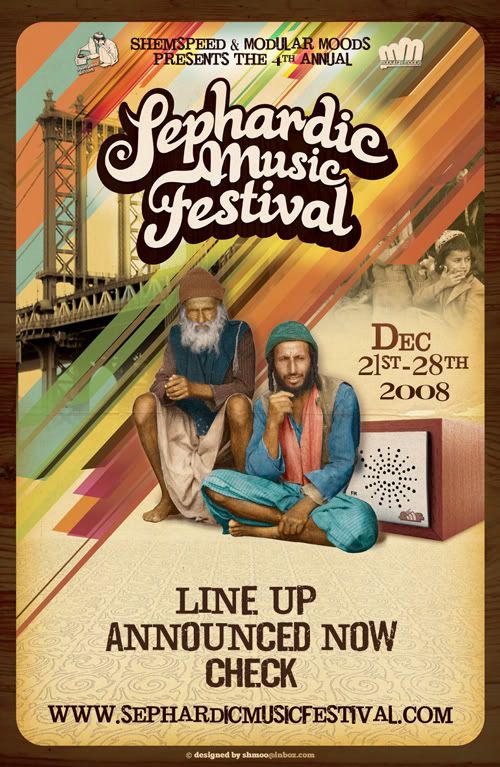 Shemspeed Presents: THE 4TH ANNUAL SMF WILL TAKE PLACE CHANNUKA 2008 (DECEMBER 21st – 28th)!
TONS OF SHOWS, SCHOLARS SERIES & PARTIES ALL OVER NYC!
The festival will include every cool Sephardic band in the galaxy (Pharaoh's Daughter, Piamenta, Electro Morocco, Eden Mi Qedem, Sarah Aroeste, Diwon and a lot of others!)
PLEASE RSVP ATTENDING TO KEEP INFORMED ABOUT ALL THE SHOWS.
INFO ON SMF:
The New York Sephardic Music Festival (NY-SMF) seeks to increase interest in and awareness of the Sephardic culture, including Mizrahi, Yemenite and Ladino traditions, highlighting the diversity that exists within the Sephardic branch of Jewish culture and history. The latest Sephardic musical talents in the U. S. will be showcased, working to reinvigorate the thriving Sephardic culture that exists and is waiting to be re-discovered. Our goal is to give people the opportunity to learn and enjoy this rich, sensual tradition that has the power to make hips shake and souls soar.
ALL INFO AT : http://www.sephardicmusicfestival.com